Reviewed
02.15.2000
Publisher
Koei
Developer
Koei
Format
8 Megabit
Origin
Import/Domestic
Available
11.01.1992
(Japan) ¥11,800
1992
(USA) $49.99
n/a
(EUR)
Exclusive
No
Difficulty
Adjustable
Dimensions
2D
View
Menu/Interactive
Genre
Business/Sim
Player(s)
1-4
Options
6 Button
Battery Backup
Requires
n/a
Importable
n/a
Intro
> When news came out that Koei was making an airline business simulator, I was ecstatic. Aerobiz, known as Air Management: Oozora ni Kakeru in Japan, was to be the first game in the "Koei Executive Series". I love airplanes, business, and simulations. As far as I was concerned, the combination of these features produced a match made in heaven.

> Here are some of the features that made this sim for me: the player controls everything from routes to aircraft inventory; from customer service to advertising; and profitability to investment (whew). The level of detail doesn't bog you down either, which is very important to replay-ability. The main objectives of the game are centered around flying profitable routes with full jets, while interconnecting all 22 cities. This is my kind of simulation.
Graphics
> Most of the graphics are okay, but could have been a little more detailed in some areas (like the aircraft pictures). The animations are a bit cheesy, but that's okay as well. The meat of this genre isn't graphics, anyway, it's realism and fun. You'll see a lot of the world map, as it's used to pick routes, display routes, build property, and more. Easy to read graphs and menus keep you abreast of your situation at all times. Like most Koei simulation games, the graphics simply get the job done without much flare.
Control
> Considering the genre, the control scheme in Aerobiz works just fine. Everything is either menu or D-pad driven with yes and no buttons. Even though you can speed up a little from slug (standard speed), I do wish there was a way to make messages scroll even quicker. Since they're well laid out, getting around in the menus is basically self explanatory.

> When opening new routes, you must choose the type and number of aircraft, number of flights, and price. You also need to negotiate slots, buy property, invest, set service levels, and conduct board meetings. Everything is turn based so you can take as much time as you need. Becoming the number one airline takes time, but practice makes perfect...
Sound
> The music is adequate, and consists of various jingles associated with country you happen to be focusing on. The Sound effects aren't numerous, but they're also not needed much. Not much else to say except the sound will not turn you off, but it could help keep your mind off the fact that you may be losing money.
Fun
> Aerobiz is very fun, especially for sim-buffs. Lots of planes to choose from, 22 cities to connect, and fierce competition from the computer players. You always play with 4 airlines -- you and your friends have to decide how many will be human. There are two scenarios to choose from. Each highlights a certain period in airline history (old/modern). I've played and beat this game over and over, and it never gets old...
Bottom Line
> If you love management simulations and airplanes, then Aerobiz is a must. If not, you should at least give it a chance. This game really makes you think, which is good for your brain. Bring on the sequel, Aerobiz Supersonic!
Ratings
Overall: 8.1 | Graphics: 7.5 | Control: 8.5 | Sound: 7.5 | Fun: 9.0
~ Shinobi ~
---
Screenshots

---
Japan | Box Art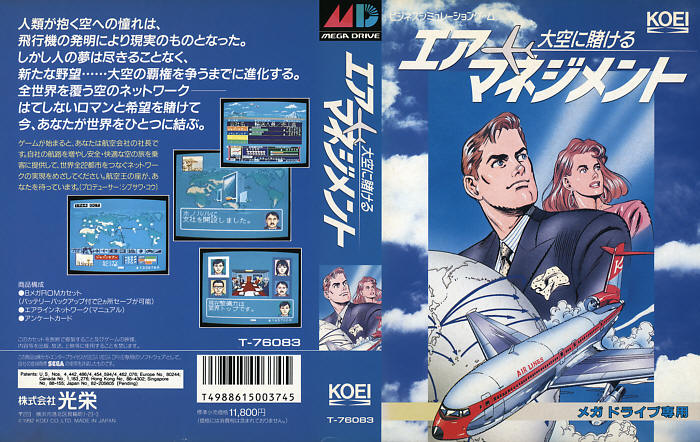 ---
USA | Box Art