Reviewed
12.30.2017
Publisher
Sega
Developer
Nexa
Sega
Format
32 KB
1/4 Megabit Card
Origin
Import /Domestic
Available
03.??.1986
(Japan)
¥4,300
10.??.1986
(USA)
$??.??
10.??.1987
(UK)
£17.99 (cart)
£14.95 (card)
Exclusive
Yes
Difficulty
Normal
Dimensions
2D
View
1st Person
Genre
Arcade/Flight
Player(s)
1-2
Options
Control Pad
Control Stick
Mark III Link
Requires
x2 Controllers
Importable
n/a
Intro
> F-16 Fighting Falcon, also known as F-16 Fighter in Europe, is a first person arcade/flight simulator that was developed by Nexa for MSX computers in 1984. Sega ported it to the Sega Master System in 1985, and released it on a Sega Card before a cartridge version appeared in Europe. The game runs in the graphics mode intended for SG-1000 backwards-compatibility, hence it's incompatible with a Genesis + Power Base Converter.

> The basis for this game is simple: pilot an F-16 in increasingly difficult dogfights against Russia's famed interceptor, the MiG-25 Foxbat. There's no landings or takeoffs, just one dogfight after another. It's something different for fans of flying and shooting.
Graphics
> The graphics are very simple, yet effective for the (lack of) power in 8-bit consoles. A sense of speed (or should I say movement) is displayed by moving terrain dots and scaling enemy sprites. There's a functional HUD as well, which features a gun/missile reticle, plus armament, heading, altitude and speed indicators. The first-person cockpit view is rounded out with additional basic warning lights, two types of radar, and status labels. There are three basic environments: blue for clear sky, gray for cloudy sky, and black for night sky. Overall, it looks very typical of a mid-80s flight sim.
Control
> F-16 Flighting Falcon attempts to simulate dogfighting between the player's F-16 and squadrons of MiG-25 Foxbats. It actually features a large variety of controls, as it needs the simultaneous input of both control pads to fully enjoy. Controller #1 is used for flight control, weapon selection and firing, while controller #2 is for throttle, ECM (electronic countermeasures), target lock-on, and autopilot toggle. To be honest, this scheme can get a bit clunky, but it does offer more realism. My biggest beef is the lack of instant feedback with flight control inputs. This is most likely a side effect of the console's lack of power. Hey, at least you can perform Immelmann and split-S maneuvers.
Sound
> The SMS has pretty basic sound capabilities, so it's a good thing a flight sim doesn't require anything too amazing. Engine noise, bullets piercing, missiles firing, explosions, and typical alarm sounds are the majority of what one will hear. Aside from a couple of simple jingles, there's no music throughout the game. I suppose it's adequate.
Fun
> Back in the day, Microsoft Flight Simulator was the best, most popular games for computers. I'm sure that's what spawned F-16 Fighting Falcon. Let's be clear though; this game is at least 80% arcade and maybe the rest simulator. That being said, flight game fans (like myself) always seek out any and all opportunities to get in the pilot's seat. This game was loads of fun in the late 80s, but just a novelty at this point in time.
Bottom Line
> F-16 Fighting Falcon has always been for fans of flight and simulation. Consoles have come a long way in this genre over the years, and this game doesn't age well. As long as you have an interest and a good imagination, F-16 Fighting Falcon might just entertain you for a while. If nothing else, its a nice glimpse into the past.
Ratings
Overall: 6.9 | Graphics: 7.0 | Control: 6.0 | Sound: 7.0 | Fun: 7.5
~Shinobi~
Box Art | JPN - Sega Card
Box Art | USA - Sega Card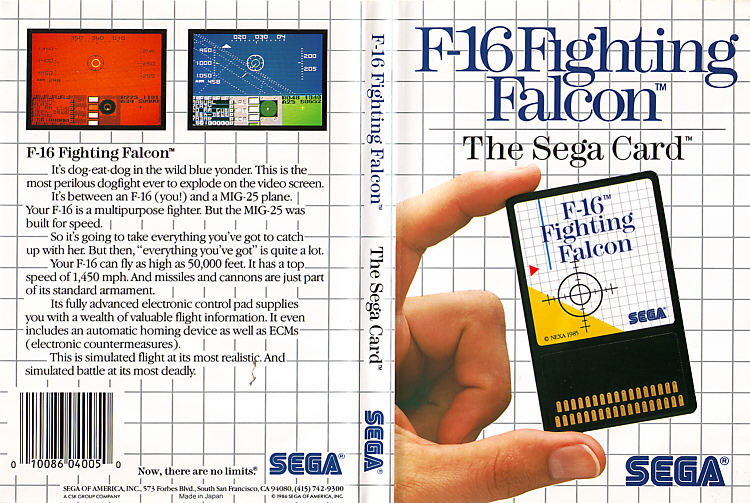 Box Art | EUR - Sega Card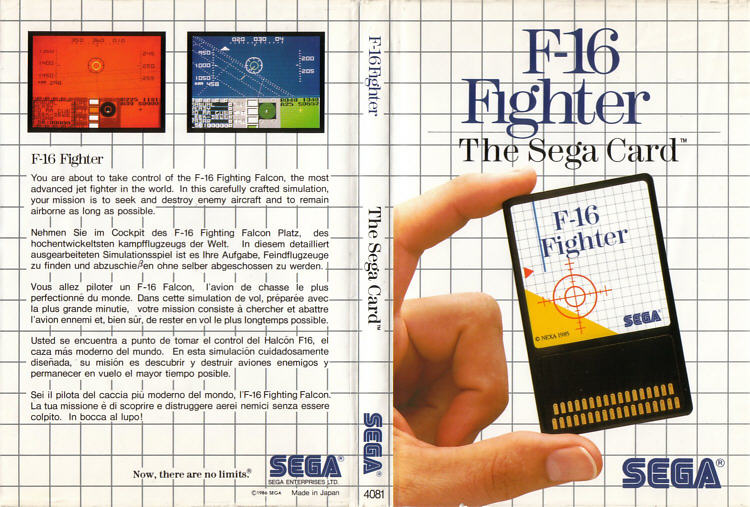 Box Art | USA - Sega Cartridge
Box Art | SHiNFORCE USA - Sega Card