REVIEW DATE:
04.10.2005
LABEL:
Zetima
PRODUCTION:
Up-Front Works
FORMAT:
1x DVD
REGION:
2 (Japan)
ORIGIN:
Japan
RECORDED:
06.28.2003
TRACKS:
17 +1
LENGTH:
102:00
GENRE:
Heavy Metal
MEMBERS:
Masafumi "Marcy" Nishida (vocal)
Shinichiro "Shara" Ishihara (guitar)
Takayuki "Kai" Kai (bass)
Yoshihiro "Kudo->" Kudo (drums)



~ Special Guest ~

Toshio "Toshi" Egawa (keyboards)
> Finally!!! I've waited for what seems like an eternity to get my greedy hands on an official video concert of Earthshaker. This DVD contains a live performance in Shibuya Public Hall (Toyko) from their 20th anniversary tour in 2003. Included are 17 live songs and a music video bonus track.

> It's hard to believe that Earthshaker has been rockin' for over 20 years. Ancient Japanese proverb: unlucky is he who hasn't been charmed by Earthshaker's mastery of rhythmic metal. Even though I have 11 Earthshaker CDs, this concert (enjoyably so) has a nice selection of tunes I've never heard before. The one thing that surprised me was to see a couple Japanese men with frizzy hair (Marcy and Kai)...lol. Although this concert sounds (and looks) good, nothing I've heard (by anyone) has ever matched the excellence of Earthshaker's 'Live in Budohkan' album.

> I would rate track #8, 'I Feel All Sadness', my favorite of this concert. It's just mezmorizing to watch "Shara" effortlessly jam right through this song, including an amazing solo. I was disappointed that no straight-up guitar solo was included, though. Thankfully, "Marcy" hasn't lost his voice and can still sing/scream with the best of them. It will suffice to say, I really enjoyed this video concert from start to finish. My only complaint is the lacking menu system of the DVD. Now, I need to get a Loudness concert DVD...
BOTTOM LINE:
> If I had my choice, I'd love to see the videos of their 'Live in Budohkan' and 'Passion' tours. However, I'll gladly take this above average sounding performance as my first Earthshaker video concert. This DVD probably won't come cheap (I paid $49), and you'll need to be able to watch or convert a region 2 DVD as well. At any rate, if you can acquire this DVD, it's definitely worth it. Make sure to check out the video clip of 'I Feel All Sadness' below.
RATING: 90%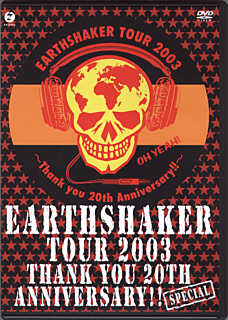 Tracks:
Intro [Japanese]
Radio Magic
"Points tomorrow the soul"
"Hero of hundred game"
"Is there the poem"
Treachery
Gambler
Your Song
Come On
Danger
"Equal to the number of nights when it runs through"
More
"It is strong blooming"
"Machine-gun * mushroom"
Earthshaker
Arigato Kimini (credit roll)
(bonus) Music Video of "Is there the poem"