REVIEW DATE:
05.07.2005
LABEL:
Columbia Music Ent.
PRODUCTION:
Loudness
FORMAT:
1x DVD
REGION:
2 (Japan)
ORIGIN:
Japan
RECORDED:
11.02.1983
VENUE:
Shibuya Kokaido
Tokyo, Japan
TRACKS:
13
LENGTH:
60:00
GENRE:
Heavy Metal
MEMBERS:
Akira Takasaki (Guitar, Chorus)
Minoru Niihara (Lead Vocal, Guitar)
Masayoshi Yamashita (Bass, Taurus Pedals, Chorus)
Munetaka Higuchi (Drums, Gong)
REVIEW:
> Yeah, baby... I'm on a roll now. Hot off the heels of the Earthshaker 20th Anniversary DVD acquisition, I have what is surely one of the best available concerts from Loudness. This disc contains a live performance in Toyko, which was originally released in December of 1983 (on videotape), and re-released just this year on DVD. Included are 13 live songs and a basic track select menu.

> The fact I was able to buy this DVD is a matter of being at the right place at the right time. Columbia records just released this DVD version in March of 2005, right when I was spending time searching for Japanese music DVD's. Although this concert sounds (and looks) good, it would have been really nice to see a complete compilation with the remaining tracks from the CD album of the same name.

> I would rate track #6, "Exploder~Heavenward", my favorite of this concert. There's nothing better than watching Akira Takasaki (figuratively) rip his guitar to shreds. Since "Road Racer" is my favorite (included) song with lyrics, I've decided to add a .wmv clip below to give you some idea of Loundess' excellence. All the songs are worthy nonetheless. Twenty two years later, It's kind of odd to see the lead singer, Minoru Niihara, with makeup on -- something of a metal-culture look in the mid 80's. I do like the choice of leather and studs, though. My only complaints are the simple menu system (par for the course, I suppose) and a lack of extras. Now, "Heavenward" I shall go...
BOTTOM LINE:
> The DVD version of "Live-Loud-Alive" was recorded just before the golden-age of Loudness, which spanned from 1983-1985. The only concerts that could possibly be better would be from the Disillusion or Thunder In The East Tours. The Japanese import doesn't come cheap, while Ebay is drenched with DVD-R's. Make sure to check out the video clip below from "Road Racer"... enjoy!!
RATING: 95%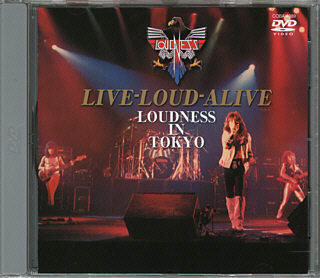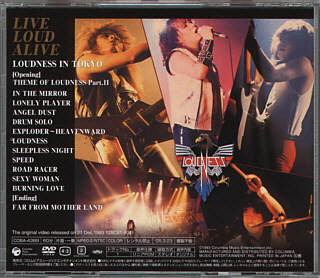 Tracks:
[Opening] Theme Of Loudness Part.II
In The Mirror
Lonely Player
Angel Dust
Drum Solo
Exploder~Heavenward
Loudness
Sleepless Night
Speed
Sexy Woman
Burning Love
[Ending] Far From Mother Land