Media
Publisher
Developer
Genre
Available
MSRP
Sega
AM3
Arcade/vs Fighting
August 1, 1997 (JPN)
October 17, 1997 (USA)
October 1997 (Europe)
¥6,800
$49.95
£??
Format
Rated
Players
1x CD-ROM
T-Teen
1-2
---
Japan flyer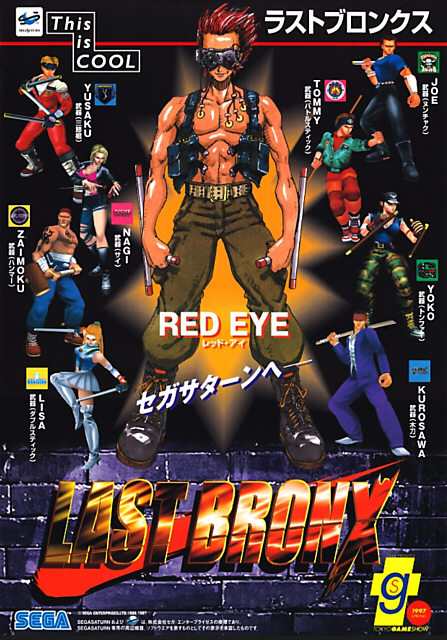 Sega Saturn Magazine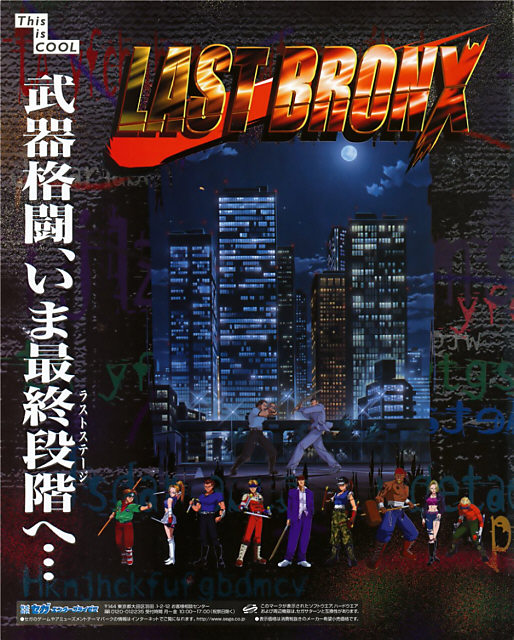 ---
Japan | front/back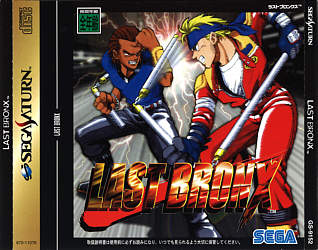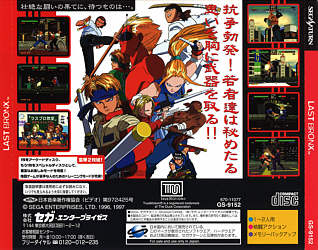 USA | front/back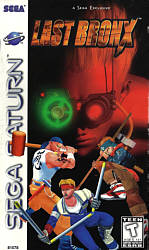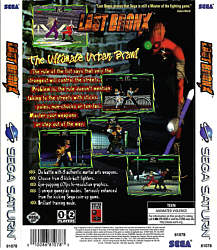 Europe | front/back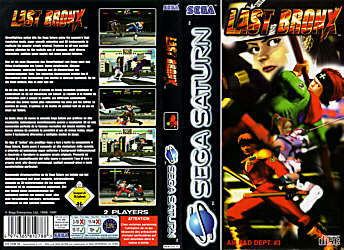 ---
Review by Shinobi | January 22, 2016
Intro
> Back in the 90's, versus fighting games were quite popular. Of course, Sega helped lead the way in arcades with their own style of fighting games which began with the venerable Virtua Fighter. This was followed by great games such as Virtua Fighter Remix, Fighters Megamix and Fighting Vipers. While the previous games were all created by AM2, Last Bronx was the one and only fighting game made by AM3. It was initially released on Sega's Model 2B arcade machine, then ported to Sega Saturn and PC.

> Last Bronx is reminiscent of Virtua Fighter in many respects, like control scheme, 3D graphics and to some extent the music. However, this game branches off to a new course with the use of weapons. AM3 also incorporated cut-scenes to tell the story. It's simple: fight through various rounds until you face off against the final boss, Red Eye!
Graphics
> Considering the supposed limitations of the Saturn, Last Bronx looks beautiful and animates with the best. The game is a technical masterpiece, considering it uses motion-captured animations, polygonal backgrounds (a first for home consoles) and does it all with fast load times! I really like the motion blur effects the weapons make while their wielded. Each background has it's own personality, and includes cityscapes, parking garages and an airport. Of course, it's not identical to it's arcade brother, but it's very good for console conversions.

> The characters are nicely detailed and females have a little boob bounce when appropriate. My favorite character is Lisa, as I like her outfit the best and she reminds me of the Soul Calibur character, Sophitia. I've included some screenshots of Lisa below.
Control
> Last Bronx's control scheme will remind you of Virtua Fighter, as I mentioned before. The basic controls are defend, weapon, kick and jump. Various combinations will provide a generous amount of moves to master, including the famous VF jump-kick while the opponent is down. You won't be disappointed with this game's tight gameplay -- timing is very important. Also, it's ever so refreshing to play a fighter with martial arts weapons, instead of the usual bare hands and feet.
Sound
> There's nothing particularly wrong with the music in Last Bronx. It surely sounds like the arcade fighting tunes from Sega we're all used to hearing. Most songs are heavy on the synthesizer and keyboards, with upbeat tempo to match the intensity of the battles. It's there, it's not a bother, but you probably won't be humming any of these tunes later.

> The sound effects are very good and consist of the usual smacks, pounces and weapon clashes. I'm glad Sega didn't dub the Japanese in the movies/cut-scenes or the character taunts. Instead, they have sub-titles for the movies/cut-scenes. It would've been nice to have sub-titles for the aforementioned taunts though.
Fun
> Last Bronx has a lot of options to adjust: everything from difficulty to timer length to wins per match. You get 8 characters to choose from whilst you fight your way through 8 levels. There are real martial arts weapons too, like poles and nun-chucks. Top that off with 5 different modes (arcade, vs, Saturn, survival and time attack), plus a watch mode and 2 practice modes! For me, the only thing keeping this rating below a 9 is the lack of more than just a couple memorable characters. It is solid fighting fun though.
Bottom Line
> Last Bronx is a must buy for fighter fans everywhere. It may not be your favorite game in this crowded genre, but you'll definitely appreciate it's technical prowess and change of pace. The graphics will impress, the gameplay is rewarding and the options will satisfy. Otherwise, I'd buy Virtua Fighter Remix or Fighters Megamix first.
Ratings
Overall: 8.9 | Graphics: 9.5 | Control: 9.0 | Sound: 8.5 | Fun: 8.5
~ Shinobi ~
---
---
| | |
| --- | --- |
| Japan Artwork | Character Artwork |
| | |
| | |